About the Harbor Performance Initiative (HPI)
The HPI was founded by Spring Harbor Hospital and Crescendo Consulting Group in 2012 with other leading behavioral health organizations that have an explicit goal to deliver excellent outcomes and increased value in behavioral health care. 
Today HPI's member organizations work together to share insights about some of the industry's biggest challenges. The HPI is committed to helping participating organizations improve the quality of their care and enhance their operational best practices in a rapidly changing healthcare and reimbursement environment. Participants benchmark selected data measures, share strategies to improve those measures, and actively engage one another on a breadth of strategic and tactical issues. As a result, participants gain perspective on their performance, evaluate and refine current strategies, and gain insight into leading-edge thinking that will help define the industry's future.
To learn more about membership in HPI, visit our membership page or contact Scott Good at scottg[at]crescendocg.com.
A Wealth of Resources
The HPI produces a series of materials and programs designed to help participating organizations connect with each other and to easily reference helpful information. Materials include the following:
Issue briefs on key topics included in webinar learning segments, quick calls, and other activities;

Quarterly "Learning Segment" discussions during which expert panel members and HPI participants tackle some of today's most urgent challenges;

Ongoing Peer-to-Peer support for a broad range of strategic and operational topics;

A directory of key staff at all participating organizations to support peer-to-peer learning; and

Special, customized reports for individual organizations, as requested.
Participating organizations can view the resources at this page.
Timely Webinar Issue Briefs
HPI participating organizations have access to issue brief reports that provide insights into timely conversations, member-led learning segment presentations, and other member-generated content.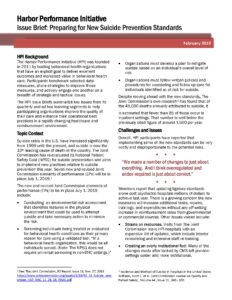 Click here for a sample issue brief discussing the use of seclusions and restraints for managing high acuity patients. If you are a participating organization and do not have the password for the Issue briefs please email scottg[at]crescendocg.com.
Quarterly Benchmarking and Performance Improvement Webinars
Participating organizations have access to quarterly webinar recordings. These recordings provide additional insights into learning segment topics, quarterly data reporting, and more. If you are interested in attending our next quarterly webinar please reach out to Scott Good at scottg[at]crescendocg.com for more information and an invitation. If you are an HPI member organization and do not have the password to view the webinar recordings please contact Scott Good.