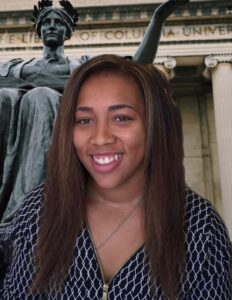 Nia Edwards - Research Analyst
Early in her academic career, Nia developed a passion for public health and health care and how the existing models could be improved. Following her passions, she obtained a Bachelor of Science majoring in Neuroscience and Behavior in 2019, with concentrations in French and Medical Anthropology. During her free summers, Nia worked in various hospital settings; she volunteered in the outpatient wing of a VA hospital, shadowed an Orthopedic Surgeon, and worked as an assistant for a neurosurgeon in a sorely underserved community in Harare, Zimbabwe.
While on campus, Nia worked in the Axel lab under Dr. LeDay as a Laboratory Technician, assisting with MRI and fMRI imaging and analyzing these images for her research on the neurochemistry and anatomy of genetically modified cuttlefish. For her final thesis, she wrote a critical review of preclinical research on the endocannabinoid system as a potential pharmacological target for stress disorders like PTSD.
For these efforts, Columbia University awarded Nia the John W. Kluge Award in 2018.
Following graduation, Nia relocated to Charlotte, NC, to work for Mallinckrodt Pharmaceuticals. Inspired by the COVID-19 pandemic, she began coursework remotely in pursuit of a Master's degree in Public Health Data Science from Columbia's Mailman School Of Public Health. During her studies, she worked in epidemiology for Mecklenburg County's Public Health department as a part of the COVID-19 Response Team, where she coordinated outreach and education of COVID-19 health & safety procedures and vaccine efficacy in local communities, monitoring compliance of public safety directives, and promoting vaccination in zip codes with high transmission rates.